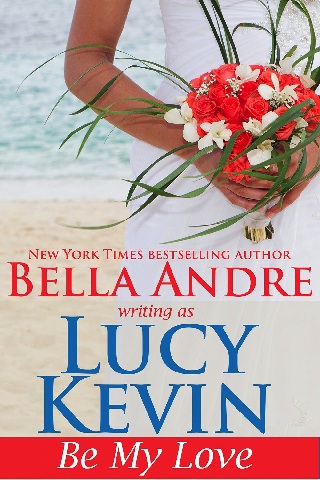 [Web-Dorado_Zoom]
"I loved this book. It reminded me of Nora Roberts' wedding series." — review for The Wedding Gift by Lucy Kevin
Lucy Kevin is the "sweet" pen-name of New York Times and USA Today bestselling author Bella Andre (who writes the #1 bestselling series about The Sullivans). Lucy Kevin books are fun, flirty and romantic–without the steamy scenes.
BOOK DESCRIPTION: Come for a visit to Walker Island where you'll find stunning Pacific Northwest ocean views, men too intriguing to resist…and five close-knit sisters who are each about to find their one true love.
After four years on the Seattle mainland, when Hanna Walker returns to Walker Island to make a documentary about the infamous Peterson-Walker feud from the early 1950s, she's shocked to realize that passions still run high. Especially when it comes to Joel Peterson, the one man who is totally off-limits…but that she's never been able to stop dreaming about.
The last thing Joel wants is for Hanna to dredge up the past, but when he realizes she's determined to follow through with her documentary no matter what, he knows he has no choice but to join her. But despite vowing to hold back his growing feelings for her, as Joel works with Hanna to unravel the mystery of what really happened between their two families, he soon begins to see that love is an unstoppable force…and that sometimes two people are meant to be.
Be My Love is the first fun, sweet, and emotional contemporary romance in the Walker Island series from New York Times and USA Today bestselling author, Lucy Kevin.
__
The Walker Island Series
• Book 1: Be My Love
• Book 2: No Other Love
• Book 3: When It's Love
• Book 4: All For Love
• Book 5: Forever In Love
__
Reader Reviews
"This is one of the best romantic stories I've read." —Alima, review for No Other Love
"What an awesome page turner for romance readers. I loved every minute of this book." —Fay, review for The Wedding Gift
"Anyone from 15 to 70 will enjoy this book. I look forward to reading more of Lucy's novels." —Delady, review for The Wedding Dress
"A Must Read! Lucy Kevin does it again! She has a way of drawing you in from the first few pages and then you can't put it down until you're done. Ms. Kevin is truly a gifted writer. If you haven't read any of her books, you should definitely give them a try. You won't regret it." —T.M., review for The Wedding Dance
__
Author Biography
When New York Times and USA Today bestseller Lucy Kevin released her first novel, SEATTLE GIRL, it became an instant bestseller. All of her subsequent sweet contemporary romances have been hits with readers as well, including WHEN IT'S LOVE (A Walker Island Romance, Book 3) which debuted at #1. Having been called "One of the top writers in America" by The Washington Post, she recently launched the very romantic Walker Island series. Lucy also writes contemporary romances as Bella Andre and her incredibly popular series about The Sullivans have been #1 bestsellers around the world, with millions of books sold! If not behind her computer, you can find her swimming, hiking or laughing with her husband and two children.