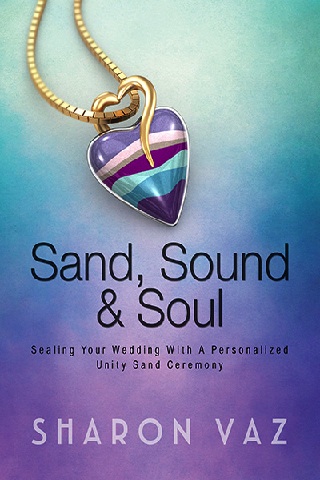 In her ground-breaking new book, Sand, Sound & Soul: Sealing Your Wedding with a Personalized Unity Sand Ceremony, Sharon Vaz takes you on a fascinating tour of today's most unique wedding and commitment ceremony – capable of displaying your love on a whole new level.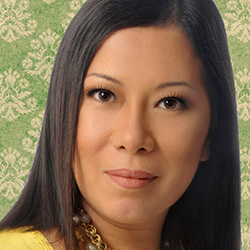 [Web-Dorado_Zoom]
1
Introduction
"Love at first sight is easy to understand; it's when two people have been looking at each other for a lifetime that it becomes a miracle."
Amy Bloom
When you imagine your perfect wedding, what do you see? Every bride-to-be dreams of having a beautiful wedding, an event that is elegant, intimate and memorable, imbued with elements that are distinctly you. Your dream wedding would be lavish, meaningful and filled with provocative, poignant details warmly recounted to future generations.
But is such a wedding possible? What if you're not the 'creative type' or on a tight budget? If resources are limited, is there a way to design a wedding that perfectly reflects your unique love and commitment to each other?
Fortunately, there is an inexpensive way to craft the perfect wedding celebration for you both. All you need is a plan that combines the captivating beauty of sand, sound and soul through your own – individualized – Unity Sand Ceremony.
Long after the last piece of wedding cake is eaten and the bouquet is tossed, vows exchanged during your wedding ceremony will remain in your hearts and minds forever. In your lifetime, there will be few occasions where you will stand before family and friends and declare what it means to have your soul mate as a life partner. Therefore, you want to make every word spoken and visual element observed during these sacred moments count.
Unlike traditional wedding vows, the Unity Sand Ceremony vows convey how your lives are to become irreversibly interwoven and forever joined in holy matrimony. These vows are not intended to replace your wedding vows, but complement them. They also serve to strengthen the commitment you make to one another on the day you speak those timeless words: "I do."
Although similar to the more commonly used Unity Candle Ceremony, the Unity Sand Ceremony brings a refreshing new dimension to any wedding ceremony. In addition, it is wonderfully versatile, adding the perfect touch to vow renewal ceremonies and even wedding anniversary celebrations.
Instead of lighting candles to signify the coming together of two lives, hearts and families, the mingling of the sands is used to convey this symbolism. This makes the Unity Sand Ceremony perfect for outdoor weddings.
The Unity Sand Ceremony: A Fitting Addition to Beach and Other Outdoor Weddings
No matter where you and your fiancé decide to exchange vows, the Unity Sand Ceremony is a lovely addition to your wedding day.
If you plan to hold your wedding on the beach, in the mountains or even under a flower-adorned trellis in your own backyard, then you need to take the elements into account. During an outdoor wedding, wind or warm sea breezes would make it difficult – if not impossible – to keep candles lit during a Unity Candle Ceremony. The Unity Sand Ceremony is gaining popularity as a practical alternative, bringing just as much symbolism, and often more, with its simple eloquence.
Especially for a beach wedding, what better ceremony to include in your special day than one that uses sand? After your wedding day, the unity vase you've chosen will become an enduring keepsake, a visual reminder of the day you pledged yourselves to one another, and the exquisite seaside location! With this deeply meaningful ceremony, you can use sand collected from your wedding beach or tinted sand purchased at a specialty or wedding shop or online.
It is no wonder that the Unity Sand Ceremony is becoming the ceremony of choice for many couples today who've decided to exchange vows on a beach or other outdoor venue?
But when all is said and done, what's most important is not where the Unity Sand Ceremony is performed, but what it symbolizes. It took thousands of years for grains of sand from the world's oceans to come together. In human terms, it may take half a lifetime for each person to discover his or her soul mate. But when two people find each other, something beautiful is created. Just as no two grains of sand are alike, no two people are alike. Yet, through marriage, the diverse two become one.
Mysterious History of Ceremony Adds to its Intrigue
It may seem that the Unity Sand Ceremony is something relatively new, but it has a long history – although its origin is shrouded in mystery. The ceremony as we know it today is widely regarded to have its roots with Native Americans, either in Hawaii or on the mainland.
We know that Native Americans in the continental United States colored sand with a number of natural dyes. Ochre produced yellow sand, for example, while gypsum made blue sand. Other organic materials created additional,
vibrant, dynamic colors. The sand was then used to make sand paintings for spiritual healing ceremonies. While it's unclear whether sand was used in wedding ceremonies, it's certain that sand was sacred and meaningful, even sacred to many mainland indigenous peoples.
Thousands of miles away, ancient Hawaiian wedding couples often stood barefoot beside the vast ocean, waves splashing against the silky beaches of the islands. It follows that island dwellers like these would include sand from virtually the endless beaches in their ceremonies. The most widely commonly retold accounts say that couples would kneel down and scoop up handfuls of sand to represent the sacredness of the moment when two are joined as one. They would then allow some of the sand to blow along with the wind while they poured the rest into a vessel to keep forever as a reminder of the sacred vows expressed under the gently persistent Hawaiian sun.
Which story do you like best? And don't they both sound amazingly impressive? These stories add to the intrigue, interest and mysticism of something that is a beautiful and meaningful expression of love regardless of where it originated.
This much is certain: the Unity Sand Ceremony is based on rich, ancient traditions which bring elements of nature into the most holy moments of life. Throughout the centuries, couples have sought ways to epitomize the importance of wedding ceremonies. Like so many other ancient traditions, the sand ceremony's meaning has evolved and expanded, as well.
Today, couples use the sacred colors which represented healing and wholeness in Native American culture to create artistic masterpieces that serve as permanent reminders of their love and union. You can personalize this act of devotion in any way you like to make it more meaningful to you, your spouse and your family. Whatever you do, you can be sure that your ceremony is based on ancient acts of healing and commitment that were nearly lost in time. We may never know the exact origin of the Unity Sand Ceremony, but it is quickly becoming a global wedding trend. That is perhaps because it has both romantic and spiritual meaning that cannot be precisely defined.
The Rise of a Wedding Ceremony Star
Although the Unity Sand Ceremony has been practiced in various forms for hundreds of years, it wasn't until the December 6, 2003 televised nuptials of Trista Rehn and Ryan Sutter from The Bachelorette that it first caught public attention. Even though their lavish wedding was reported to cost a hefty $3.77 million, this simple symbolic ceremony was what people remembered most.
The good news is you don't need to be a millionaire to include the Unity Sand Ceremony in your wedding. Only a few supplies are needed, so you and your
beloved can enjoy the elegance of this ceremony, even when working with a shoestring budget.
Two and a half years after the televised wedding of Trista and Ryan, Beaches Resorts (located in the Caribbean islands of Jamaica, Turks and Caicos) introduced the Unity Sand Ceremony as part of their FamilyMoons wedding package. An extension of their existing WeddingMoons concept, the FamilyMoons package was designed to accommodate wedding couples with children. During the Unity Sand Ceremony, pristine white sand from the Caribbean is used to symbolize the blending of two families with the bride, groom and their children taking part. Today, the Unity Sand Ceremony continues to feature prominently as a special wedding highlight.1
"The unity sand concept made famous by Trista and Ryan from the popular Bachelorette television show, has been described by many wedding planners in the United States as one of the most popular elements in today's destination weddings. Often taking the place of the traditional unity candle ceremony, the unity sand ceremony is felt to be better suited to outdoor and beach settings." – June 2, 2009 Antigua Sun
The growing popularity of the Unity Sand Ceremony owes much to its adaptability to a variety of occasions and couples. Perfectly suited for first marriages, remarriages, blended families, wedding anniversary celebrations and vow renewal ceremonies, the possibilities to create a treasured memory for a lifetime are virtually endless.