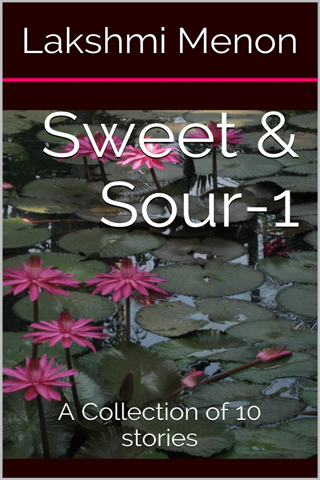 These stories explore the various relationships of human bonds in one way or other. They are stories of respect, love, hatred, anguish, affection, loneliness, revenge and tolerance.
Book Rating: G
Today was the fourth day since they had stopped talking to each other over a petty argument. Every minute when Dinesh was at home Shalini waited patiently for his loving call – "Shalu…. My darling!" but it never happened.
She decided that she would not say anything until he came and apologized to her. In the past, it was always Dinesh who had come forward to compromise and bridge the gap between them, caused often by petty misunderstandings. Besides, Shalini could not remember even a single instance when such an event lasted for more than a few hours. After all, it was only a silly matter on which they had argued unnecessarily for about an hour and had ultimately led to creation of a wide gap between them. Shalini sighed heavily.
They were married eleven months back, after knowing each other for almost a year in College. After their wedding, they did have occasions like any other couple when she had to quarrel with Dinesh, and in most cases, Dinesh had picked up a quarrel for the mere pleasure of it. However, it had never gone beyond a day. It was too much for Shalini to bear the unpleasantness. Finally she had decided to make the long-awaited holiday most enjoyable. Sipping the freshly brewed coffee, Shalini thoughtfully remembered what Dinesh had said last week.
"Next Friday is a holiday for me. We can go to my cousin's house for the housewarming ceremony," Dinesh had said then while handing the invitation card to her….
His cousin, an engineer in PWD, and his wife had invited them for the house warming ceremony of their newly built bungalow, near his office, about ten miles away. Shalini was overwhelmed by the suggestion and looked forward to attending it with her handsome husband, wearing the new silk sari presented by him two months ago for her twenty-third birthday.
As she was preparing the special breakfast for the holiday, the unpleasant event resurfaced in her mind like an uninvited guest, she found that tears came to her eyes.
That fateful evening the air was mild, and the sky was calm. Dinesh and Shalini were chatting in the balcony of their two bed room flat on the third floor.
Suddenly they had noticed a fair, young girl begging in the street, gripping her blind husband's hand, while holding a plastic bowl and holding it out to the kind-hearted pedestrians. Shalini was touched by the unfortunate girl's pure love to her husband though he was blind and dependent on her."