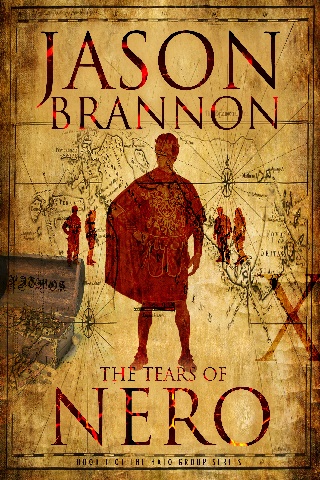 From the author of The Maze comes a new novel of spiritual warfare, supernatural mystery, and suspense.
Five strangers on a mysterious island are stalked by a madman who calls himself Nero after the crazed Roman Emperor.
A clandestine society known as the Slaves of Solomon search for an ancient secret hidden on the island.
Rumors abound that one of the angels mentioned in the Book of Revelation is secreted in one of the island's limestone caves.
Are Nero's murderous games merely the whimsy of a madman or is there something more at work? Are the Slaves of Solomon striving to protect humankind or destroy it? Is there really an angel on the island somewhere or is that story a cover up used to protect the Slaves of Solomon's true purpose?
Come to the island and find out why God allows bad things to happen to good people!
Praise for Jason Brannon's writing:
"Jason Brannon shows us a place of reckoning and judgments, of creatures that wait to ensnare us. The Maze is a novel of damnation and deliverance, of corridors fortified with death and spirituality. I found a bit of myself in The Maze." ~ Steven Lloyd, author of The Wooden Box
"From his style, you'd think Jason Brannon was the dark double of Ray Bradbury. He cares more about character and realism than most writers I've read and his plots flow like well-orchestrated music. Indeed, Brannon's writing has a classical feel, reminiscent of the best traditional work in the genre, even when he's going for gut-wrenching terror and torture in-extremis." ~ Michael Arnzen, International Horror Guild Award winning author of Grave Markings (Dell Abyss)
"Brannon's work reminds me of the glory days of The Twilight Zone, when it was in black and white and carried bylines like Beaumont and Matheson. Often surreal, sometimes disturbing and sometimes enlightening, there's real substance in his tales that few of his contemporaries can match." ~ Mike Oliveri, Bram Stoker Award winning author of "Deadliest of the Species"
"It is a rare treat to find a modern writer whose work is truly a mirror of the darkest corners of the world we all share. Every one of his haunting stories is infused with clear ideas and startling notions submerged in a straightforward and engaging prose. His visions linger with you long after the book has been closed." ~ Stephen Susco, screenwriter (The Grudge, The Grudge 2, Pulse, Red)
"Biblical prophecies come to life at your local hardware store? What's not to like? Winds of Change is a wild ride and then some. Jason Brannon's characters live and breathe in every story, and his horrors crawl up your spine like an icy finger in the dead of night. I couldn't turn the pages fast enough!"–James Newman, author of "Midnight Rain" (Leisure Books)
"Jason Brannon's Winds of Change is the sort of collection that should make it to everyone's must read list. His prose is deceptively powerful and his stories are the stuff that revives my love of the genre."–James A. Moore, author of "Serenity Falls" (Jove)
"Jason Brannon's The Maze has it all; high concept fantasy adventure, vivid descriptions of horrific monsters and torture devices that should make even the most hardcore horror fans quiver in fear, a deeply moving exploration of the motivations of the human heart, and what it takes to transform from a creature that embraces darkness to one that runs to the light."-Jess Hanna, author of "Adverse Possession"
"This book is a trip. It's like Edgar Allan Poe meets Lewis Carroll. Surreal nightmares clash with real-world dilemmas in a tale that's as bleak as it is hopeful. A breath of fresh air in the world of edgy Christian fiction."-Mark Carver, author of "Black Sun"