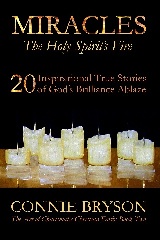 Venture Beyond Your Imaginings
In the midst of this darkened world, what difference can it make to light one candle? Life and death, according to Connie Bryson. Imagine being illuminated about how to stop a rape, or quiet a raging storm, even how to avert a murder. From visions and dreams to prophetic warnings, miracles have leapt off the pages of the Bible for this author, burning brightly in the here and now. She's the first to admit how completely undeserving she is. But in God's amazing grace, the blazing torch of the Holy Spirit has been passed to her to carry first hand. Step out of the shadows of the natural world and into the supernatural light with this author and artist. Experience God afresh through these 20 inspirational true stories of God's power afire in the life of an ordinary believer.
MIRACLES – The Holy Spirit's Fire: 20 Inspirational True Stories of God's Brilliance Ablaze is the second book by Christian Author Connie Bryson in The Art of Charismatic Christian Faith Series, Book Two.Experience God now as you read about the supernatural modern miracles of God this author has witnessed over the course of her life of faith and continues to see. Believe today for your gifts of the Holy Spirit to be manifest. Be encouraged by these stories that believers of all stations can experience. God's powerful anointing and the ministry of His spiritual gifts. You may be used to perform miracles of healing. He may give you visions and dreams, or prophecy. You may even be blessed to hear the audible voice of God. Allow this book to encourage your prayer life, individual and group ministry, spiritual growth, relationship and intimacy with God.